ATLANTA — College Park is the latest metro Atlanta city to get creative when it comes to increasing outdoor seating at restaurants amid the ongoing coronavirus pandemic.
The city recently launched a "parklet" program to block off parts of streets for diners, following a similar initiative in Atlanta.
Last week, the city transformed about 100 feet of parking spaces and extended the sidewalk along Main Street for three popular restaurants.
"There is this big surge all over the United States, mostly because of the pandemic — parklets are just popping up everywhere because outdoor dining is where it's at now," said College Park's main street manager, Renée Coakley. "People feel safer, with everything that is going on. We are just glad to get ours up and running."
Although parklets were supposed to be a temporary solution, they are likely to become permanent as the health crisis drags on, Coakley said.
"They are there to stay," she said. "They're on risers, so we could pick them up and store them, but the goal now is to leave them there."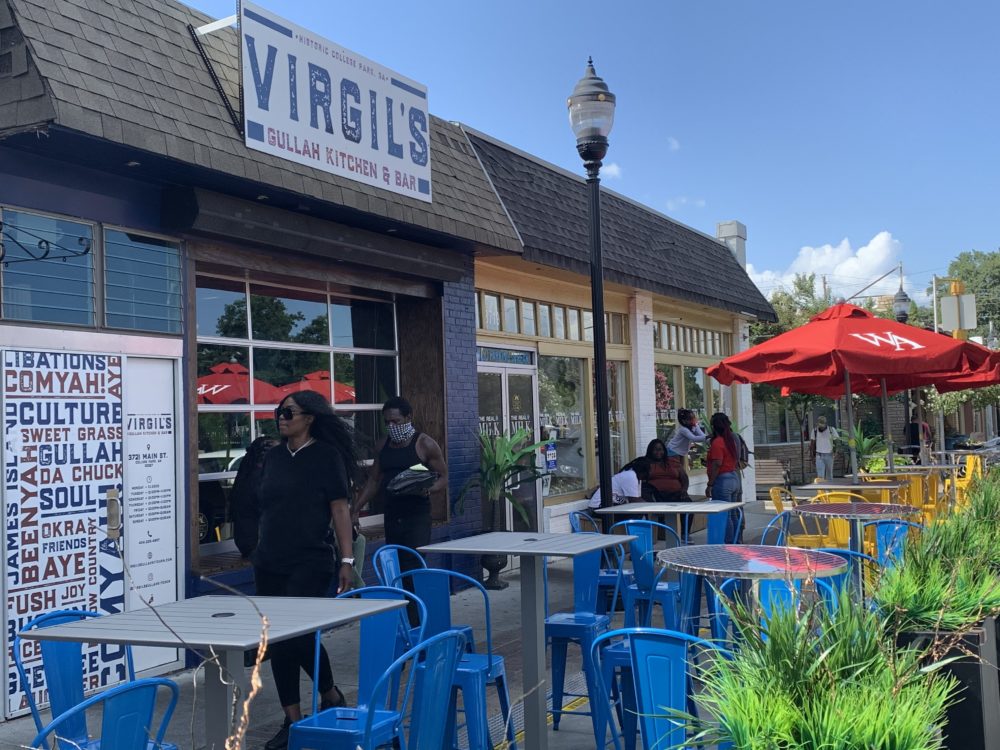 The project was funded with a combination of public and private funds, according to Grace McPhillips, the vice-chair of the College Park Main Street Association, a nonprofit. The association donated $15,000 and the city matched $25,000 raised from the community.
McPhillips said her organization and the city saw a need to support the numerous new eateries popping up along the bustling historic thoroughfare.
"It's not a new concept, we just needed to figure out how to make it work for us," said McPhillips, adding that she's seen the benefits parklets can have on local businesses in other cities like Chicago.
College Park's first parklet opened last week, with color-coded seating for the three restaurants it serves. The city is hosting a ribbon-cutting at 4 p.m. on September 10.
"It has definitely helped business," said Jared Gonzalez, the kitchen manager of Johnny's Chicken and Waffles, one of the participating restaurants. "From what we have seen so far, we really like it. We really appreciate it, that the city is letting us do it."
College Park isn't the first metro municipality to install parklets. The city of Atlanta did so under its "placemaking program" in 2017.
Due to the success of the program and the increased demand for outdoor seating during the pandemic, planning officials dedicated their 2021 application round to only parklets, said Vanessa Lira, the design assistant director of public space studio under the city's planning department.
Atlanta currently has installed 12 parklets with another four planned for this fall.
Lira described the projects as "low-cost, high-impact."
"Our goal is to create vibrant public spaces in Atlanta," she said. "Our spaces should be accessible, sociable and aesthetically pleasing."
---
For more from Fresh Take Georgia and the latest updates, follow us on Facebook and Twitter.
---