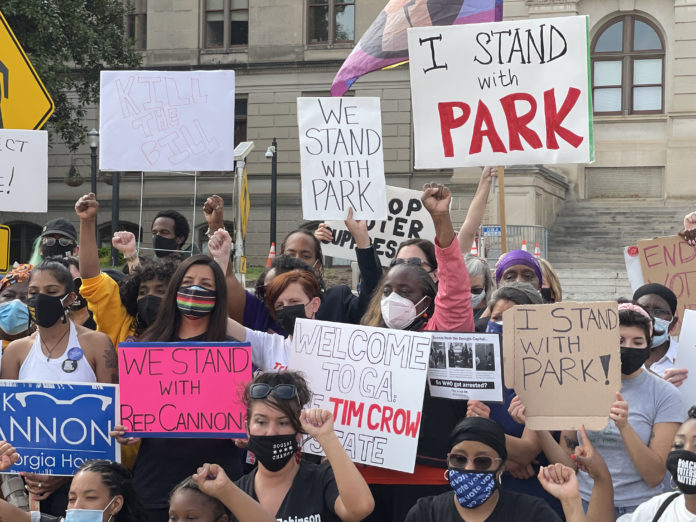 ATLANTA — A controversial election law signed by Gov. Brian Kemp and the subsequent arrest of state Rep. Park Cannon for knocking on his office door has garnered national attention. In Georgia, a lawsuit has already been filed and activists have begun mobilizing.
On Friday, a panel of Democratic legislators discussed the sweeping election law and the arrest of their colleague during a webinar for Georgia's WIN List, a political action committee dedicated to electing Democratic women.
That afternoon, a group of around 80 protestors gathered at Liberty Plaza to oppose the election legislation and support Cannon, the Atlanta Democrat who the Georgia State Patrol charged with obstruction of law enforcement and disrupting General Assembly sessions. She was released on bond late Thursday night.
Also Thursday night, three voter mobilization groups filed a lawsuit to stop implementation of the legislation Kemp signed an hour after the Senate sent it to his desk. It claims the law violates two provisions in the Voting Rights Act.
During the webinar on Friday, attorney and freshman Rep. Zulma Lopez said additional lawsuits will be filed. She said the cost of litigating these suits will fall to Georgians and hinder the state budget.
"This is going to cost millions of dollars to Georgia in defending these laws that are predicated on the false premise of fraud," said Lopez, a Democrat from Atlanta "So, on one end we are talking about the budget, we're talking about how we can maximize the little resources we have to continue to support our communities that are struggling, but then we're going to pass the bill that they know they're going to have to defend in court over and over again, at the expense of our tax money."
Freshman Sen. Sonya Halpern, a Democrat representing Atlanta, called the law morally reprehensible and legally indefensible. She also criticized the governor for signing the law behind closed doors, which led to the arrest of her colleague.
"Under shrouds of secrecy you've got poor Rep. Park Cannon, who is simply knocking on a door, we've got video evidence of that," Halpern said. "And she got arrested because she, like the rest of us, knows that Republicans are actually trying to rig the election, through legislation."
She said a provision in the law allowing the State Elections Board to effectively take control over local election boards is a game changer.
Sen. Nan Orrock, a long-time Democratic lawmaker from Atlanta, also emphasized what she called the dangerous implications of that section.
"Get this, it ends this way: 'the term of the chair of the state elections board will end when the next person is appointed,'" she said. "Literally no term limits for the unelected chair of the State Elections Board. It gives them the power to go into any county that they want to, find probable cause, dismiss the local election officials and make their own appointments. It's clearly calculated to try to keep the GOP majority in power in the 2022 election outcomes."
But Rep.Teri Anulewicz, a Smyrna Democrat, said she believes the actions of Republicans during this legislative session will motivate the Democratic Party base and encourage moderate Georgians to vote blue in the midterm elections.
The election legislation and Cannon's arrest motivated protestors, who gathered at Liberty Plaza for two hours on Friday. This demonstration was one in a series by opponents to election bills brought forth by Republican legislators.
Lawmakers and activists asked the crowd to stand in solidarity with Cannon, and emphasized the importance of state and local elections in light of the elections overhaul passed by the General Assembly.
State Rep. Viola Davis, an Atlanta Democrat, said federal action on voting rights is needed, and supported the abolishment of the filibuster in order to pass the John Lewis Voting Rights Act. In the meantime, she pledged to continue working for Georgians in her capacity as a representative.
"When they arrested Park for knocking on the door, what they were trying to do was send a message to all of us that we do not need to fight for the people," Davis said. "I'm saying to you, they can keep arresting us one after the other. Because it will be, and don't get me wrong, a cold day in hell before I stop serving the people."
Atlanta activist Devin Barrington-Ward said Cannon's arrest is indicative of what happens to Black women across the country.
"Knocking on the door and demanding justice, knocking on the door and demanding accountability, knocking on the door and demanding a future, and what are we met with? The long arm of the law," he said. "The last Black woman that they arrested went to Congress, so where is Park Cannon about to go?"
Barrington-Ward was referring to U.S. Rep. Nikema Williams, D-Ga., who was arrested at the Georgia Capitol in November while she was still a state senator.
The three groups that filed the lawsuit in the U.S. District Court are New Georgia Project, Black Voters Matter Fund and Rise.
The suit claims the new law violates the First and Fourteenth Amendment rights of these three plaintiff organizations, which represent and register Black voters, as well as those rights for all Georgia voters.
The suit claims that "No state interest justifies any of these restrictions, which individually and cumulatively burden the right to vote." It also states, "Rather than promote public confidence in Georgia's elections and ensure election integrity, the Voter Suppression Bill will make voting more difficult, result in disenfranchisement, and shatter voter confidence in Georgia's electoral process."
It concludes by asking the court to throw out as unconstitutional much, but not all, of the law's provisions that they say will disproportionately disenfranchise Black voters.
---
For more from Fresh Take Georgia and the latest updates, follow us on Facebook and Twitter.
---